Dive Team
The City Of Nashua Dive Rescue Team is a joint effort between the Nashua Fire Rescue and the Nashua Police Department. The Nashua Fire Rescue is primarily responsible for all rescue efforts while the Nashua Police Department is responsible for recovery efforts. The Dive Team was established as a way to provide a much needed service to provide underwater rescue services to a city that has several large bodies of water including the Merrimack River, Nashua River, and numerous ponds and canals. The Nashua Fire Rescue Dive Team is certified to operate in moving water, black water, underwater vehicle rescue, boat operations and ice diving .The Dive Team is staffed 24 hours a day. The Dive equipment is housed at the Lake Street Community Fire Station. .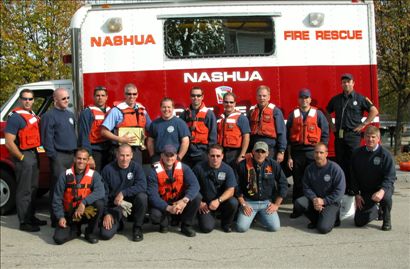 Members of the NFR Dive Team at a training session in October 2007 at Sandy Pond.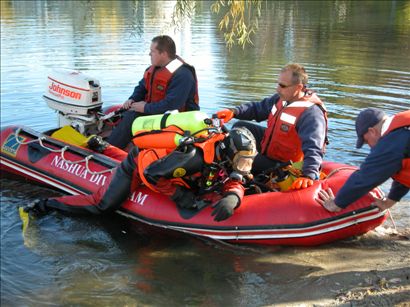 Divers Mike Lafleur and Mark Tapply operate one of the NFR boats as the prepare to take a diver onto Sandy Pond.
Page Last Updated: Apr 12, 2018 (06:22:12)