3rd Alarm on St Laurent Street
On January 5, 2008 at approximately 1000 hrs, Nashua Fire Alarm transmitted a box alarm for the Best Western Hotel and 99 Restaurant on St. Laurent Street. Engine 1 and Engine 5 along with Ladder 1 were dispatch. Ladder 1 was on scene in less than three minutes and reported nothing showing. As they investigated the box a report of a fire on the second floor was received by the hotel manager. Ladder 1 quickly called for the working fire assignment and reported a fire in the building and Engine 6 was dispatched. Deputy Chief Dan Cronin arrived on scene and assumed command of the fire. Two attack lines were stretched and a search of the building was conducted. As the fire extended between floors 1 and 2, Deputy Cronin requested the 2nd Alarm be transited bringing Engine 2 and Ladder 2 to the fire. Both Ladder Companies worked to open the gable ends of the structure and th interior crews continued to open the building up in an attempt to stop the fire spread. The 3rd Alarm was transmitted bringing Engine 4, Tower 1 and Merrimack Engine 2 into the scene to assist in fire control as well as RIT operations. The fire was contained to six rooms on two floors with about 30 rooms in total being damaged by smoke and water damage.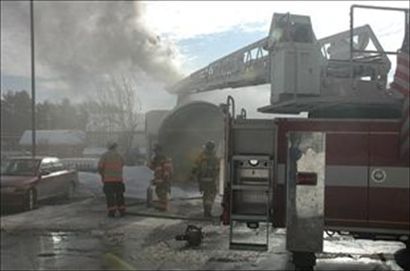 Ladder 2 operating on side 4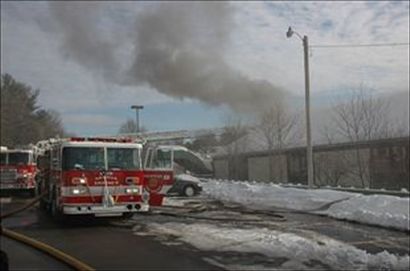 Engine 5 working on side 4.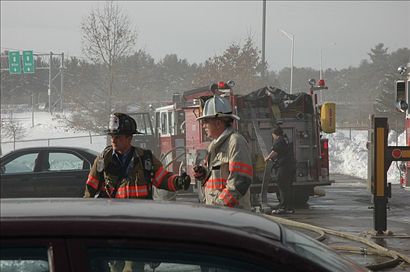 Deputy Chief Dan Cronin was in command.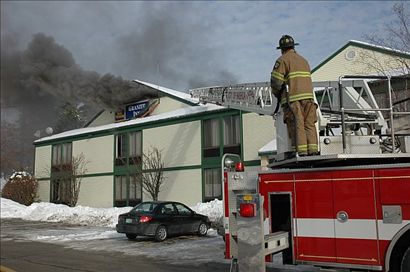 Ladder 1 chauffeur Bob Fitz set up in the rear of the building.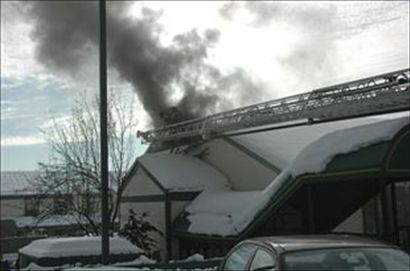 Ladder Co 2 opening up the gables.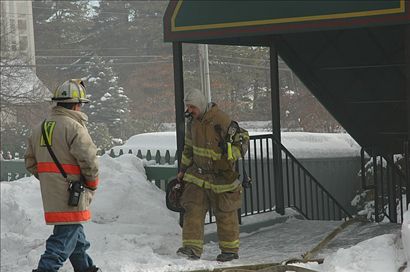 Firefighter Rick Wilkins of Ladder Co. 2 and Chief Brian Morrissey.
Photos by Kevin Kerrigan