On Wednesday November 28, 2007 Nashua Fire Alarm dispatched Engines 4 and 1 Ladders 1 and 2 to 4 1/2 Beech Street for a report of smoke coming from the building at 1723 hours. Engine 4 singed on scene with smoke showing from the third floor of a 2.5 STY WDFM. Engine 2 was immediately dispatched as the third engine for the Working Fire. Engine 4 stretched to the rear of the building and reported an attic fire. Deputy Chief Cronin assumed command and requested a 2nd Alarm be transmitted bringing Engine 5 and Tower 1 to the fire. Ladder 2 vented the roof and Engine 4 quickly knocked down the fire that had consumed the third floor apartment. The fire was brought under control at 1757 hours. No injuries were reported.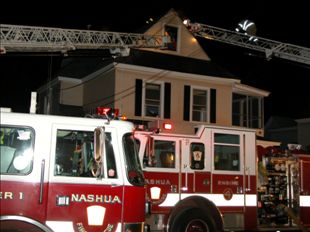 Engine 4 was first due at 4 1/2 Beech Street.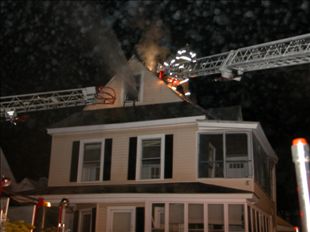 Ladder 1 had horizontal venting while Ladder 2 took the roof.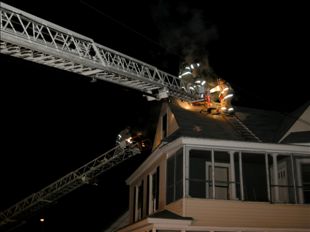 Ladder 2 finishing up the roof.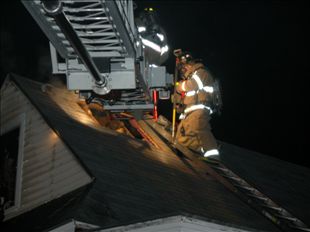 FF Dave Robert on the roof.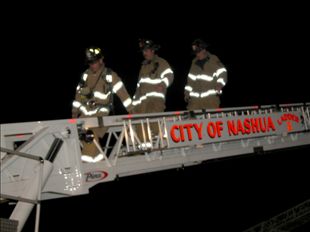 Ladder 2's crew L-R: FF Brian Harrington, FF Dave Robert, FF John McAllister.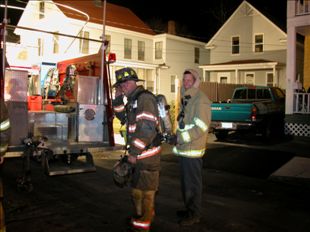 Engine 4 Lt. Gordie Wilson talks with Department mechanic Dave Powell.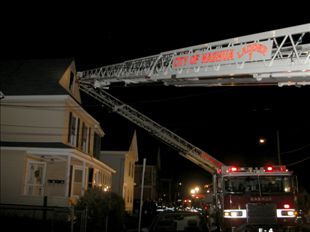 Ladder 1 had to fight several utility lines to get horizontal venting of side 1 windows.
Photos by Al Boucher