3rd Alarm on Fossa Avenue
At approximately 0845 on Wednesday February 13, 2008 Nashua Fire Alarm received a call reporting a porch fire at 8 Fossa Avenue and dispatched Engine 4, Engine 1, and Ladder 2. Engine 2 had just clearing a medical call and was quickly dispatched as the third engine after multiple calls reporting a house fire began coming in to fire alarm. Ladder 2 was first to arrive and reported heavy smoke and fire showing from a large 2.5 story wood-frame apartment house. Engine 2 followed by Engine 4 and Engine 1 arrived immediately after and begin making an interior attack. Deputy Chief Cronin (03) assumed command and requested a second alarm be transmitted, bringing Engine 6 and Ladder 1 to the fire. As crews worked to extinguish the fire which began on the rear porches, the roof was opened by both Ladder 2 and Ladder 1. The third alarm was transmitted bringing Engine 3, Engine 5, and Tower 1 to the fire scene. The Nashua Fire Marshal's Office investigated the fire and determined that it began when a child ignited materials while playing with a lighter.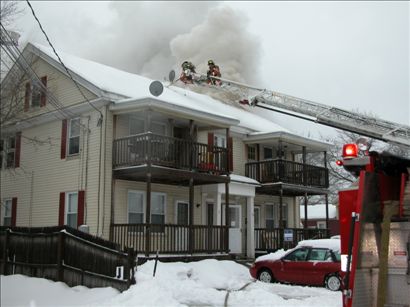 Group 3 battles this 3 alarm fire at 8 Fossa Avenue.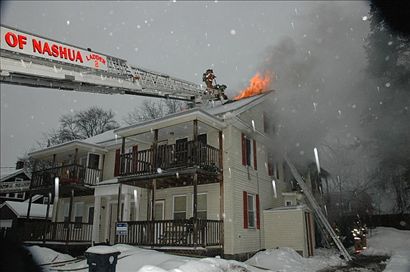 Crews begin working on opening the roof.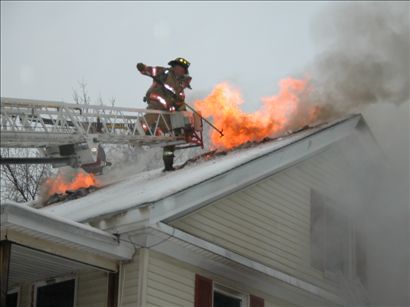 Lt. Al Borneman and FF John McAllister venting off Ladder 2's stick.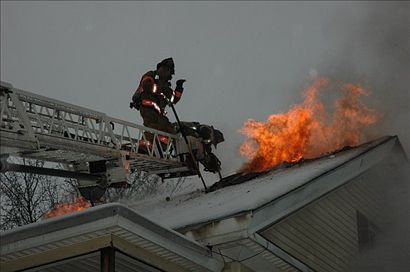 Ladder 2 working on the second vent hole.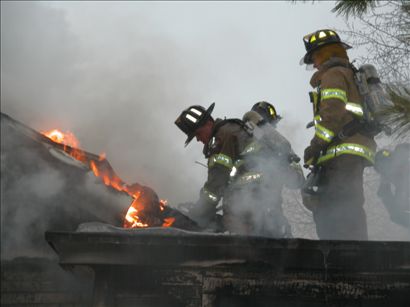 FF Mike Duvarney from Ladder 1 working on the rear roof section.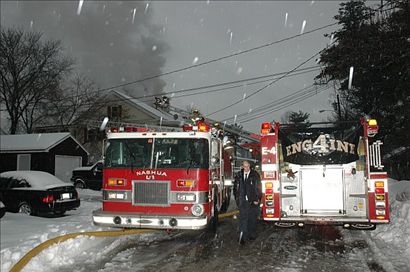 The view from Main Street as Ladder 1 and Engine 4 work the 3rd Alarm.
Photos by Capt Kevin Kerrigan and Al Boucher.